Case Study
House of Lor Brand & Website R
elaunch
We partnered with TJH to help them relaunch House of Lor brand and website. Attracting and engaging with their end-user persona, using relevant content to educate about the brand, and technology to automate processes to create a holistic buyer experience for their customers.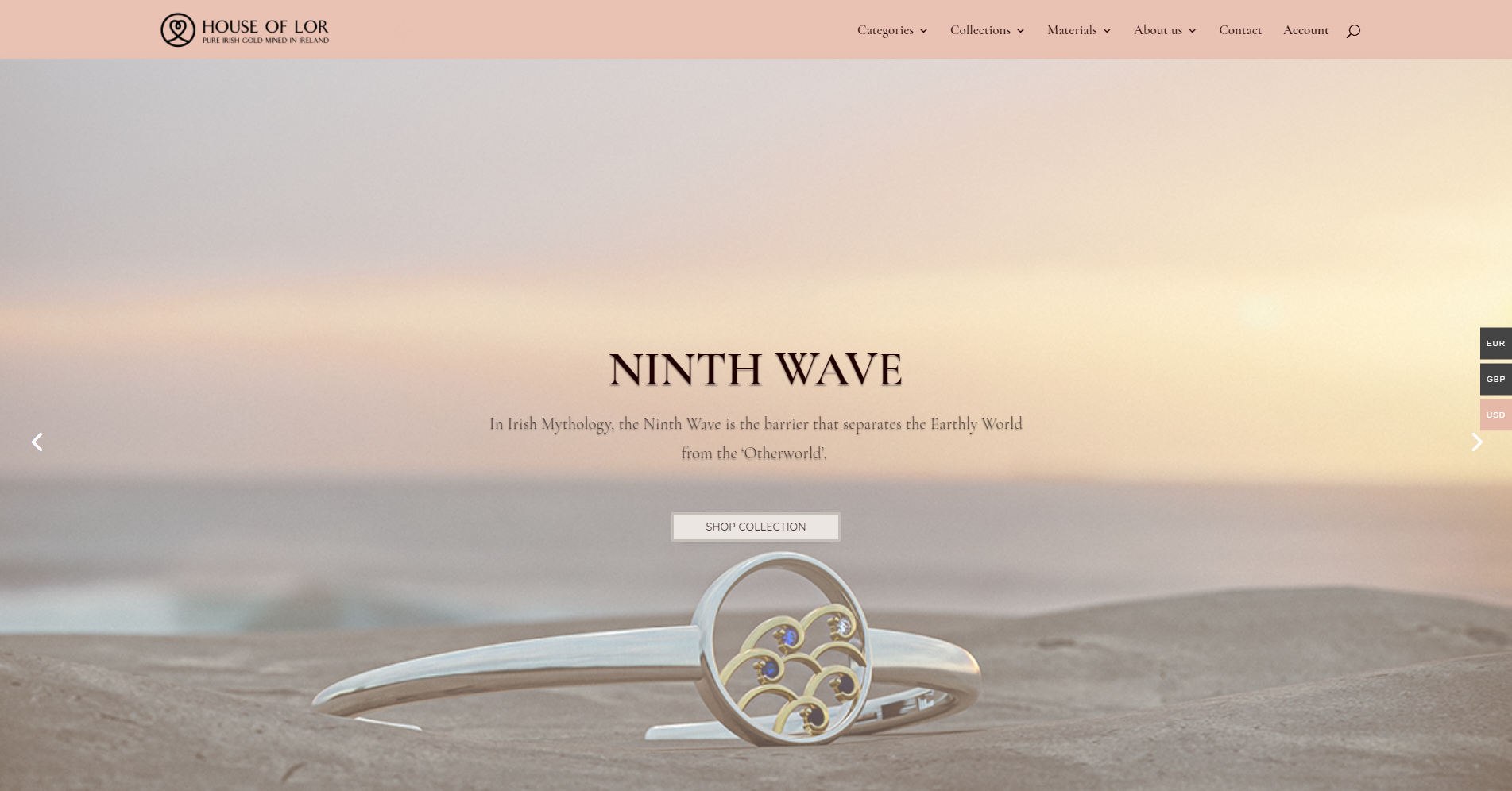 House of Lor: pure gold mined in Ireland
The Jewellery House (TJH) is one of the biggest jewellery manufactures and exporters in Ireland. They have been in business for more than 60 years, producing high-quality pieces of a wide variety of materials and metals inspired by Irish heritage and history. For many years TJH has focused on creating and selling for retailers around the world. Especially in the USA, UK, Australia, New Zealand, and Germany.
They launched their House of Lor brand in late 2015, under exclusive license from the Galantas Gold Corporation, which operates the only commercial and sustainable gold mine in Ireland. House of Lor became the only jewellery collection in the world using solid Irish gold mined and crafted in Ireland in every piece. It is pretty common to find this collection at every Celtic Jewellery house worldwide.
House of Lor website was mainly focused on B2B sales. Resellers would browse the site as a catalogue and, based on their expertise, select pieces that align with their local customer base and ordering offline.
Enter COVID-19
Most physical stores worldwide had to close their doors because of the pandemic. The directors of TJH saw an opportunity to grow their B2C channels and continue to help retailers during that time.
We partnered with TJH to help them relaunch the House of Lor brand and website. Attracting and engaging with their end-user persona, using relevant content to educate about the brand, and technology to automate processes to create a holistic buyer experience for their customers.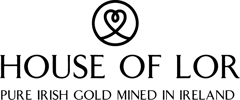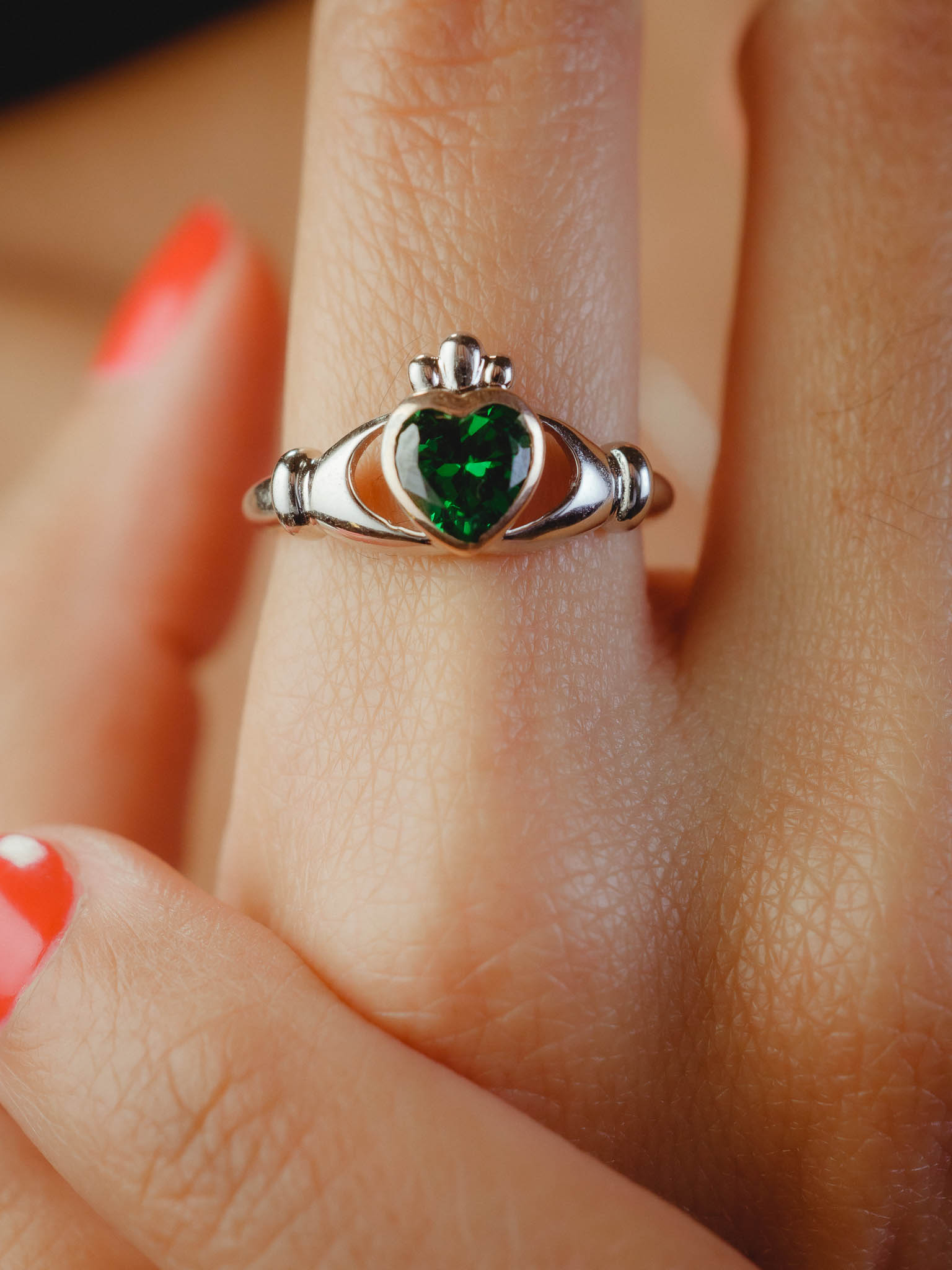 House of Lor Green Zirconia Stone Claddagh Ring
The problem
House of Lor website was built on the WordPress CMS platform using implementing WooCommerce as their eCommerce platform. Our team specialises in eCommerce implementation and management using WooCommerce, so this was an excellent fit for us from the beginning.
The former website was built on a legacy WordPress theme called Vendor. Making even simple changes to the content of the website was highly complicated and took months to complete to the previous webmasters. A considerable portion of the website's software was deprecated and no longer updated by the original developers, leaving open doors for security breaches, bugs, and performance issues.
Regular website design processes take months of development to create a new design with all the bells and whistles, staying static for years (bringing good results or not) until it becomes obsolete and it needs replacement.
The Solution
We implement websites applying the Growth-Driven Design method. It means we create a Launchpad as soon as possible, which is a better version of the website that correct priority problems with greater performance but still is not the final product.
We used advanced analytics to determine the best course of action according to the data and behaviour of the website and visitors. This way, your website keeps improving over time, bringing better results, more engagement and ultimately return of investment (ROI) compared to static developments, as it is genuinely your source of truth that eventually will turn into a revenue generation machine.
Our initial focus was on depurating the technology stack and content with five primary goals in mind:
We had to improve performance and security.

The website wasn't collecting data; we needed to set up and improve analytics.

Online shopping is all about the experience. We had to create missing content, improve the design and user experience overall.

We needed to be able to manage stock, upgrading the catalogue management and ads delivery.

We must increase traffic, conversion rate and B2C sales (Results).



Our first measure of success was growing sales during the Christmas season compared to the previous year. We started our strategic partnership with TJH by the end of Q3, so time was vital.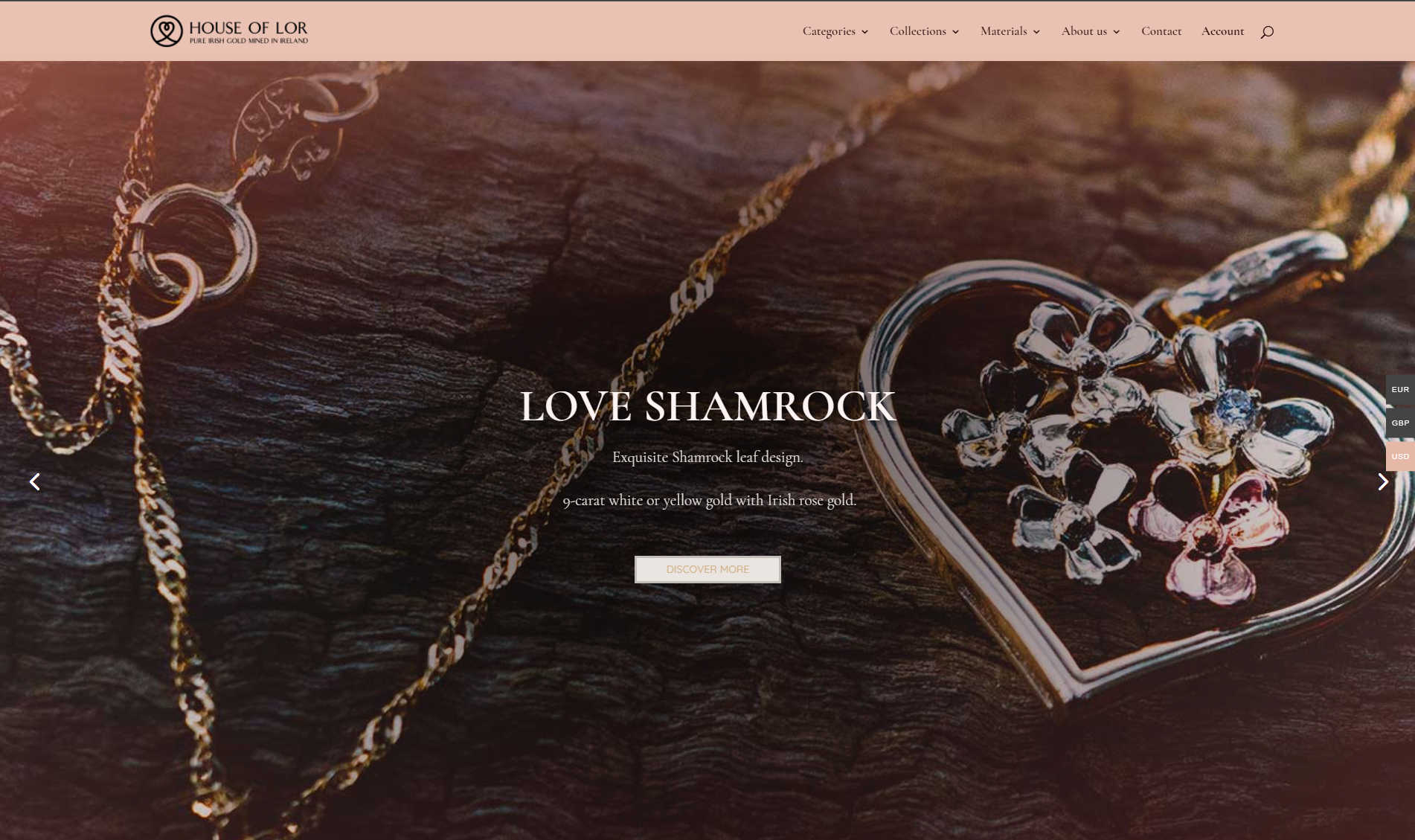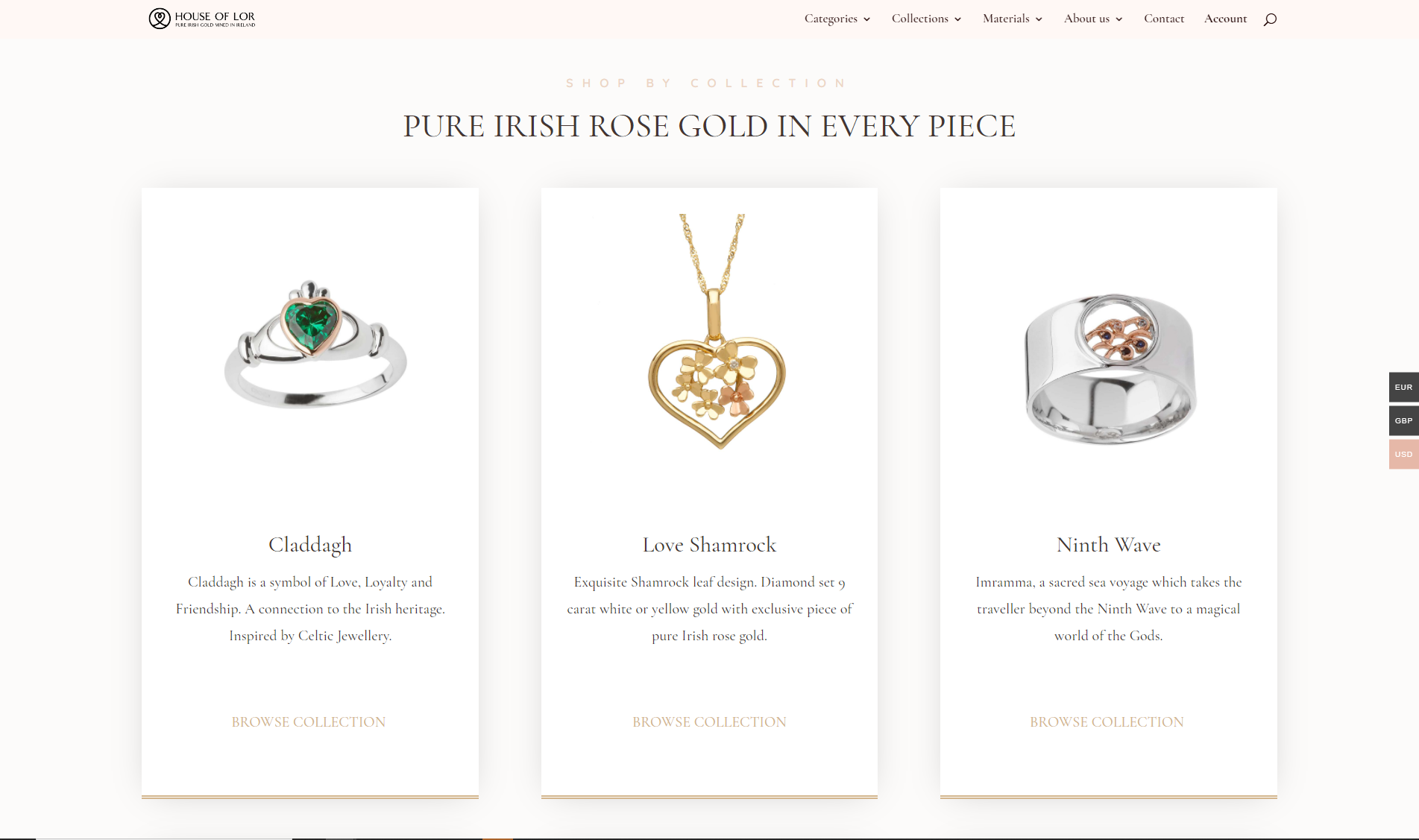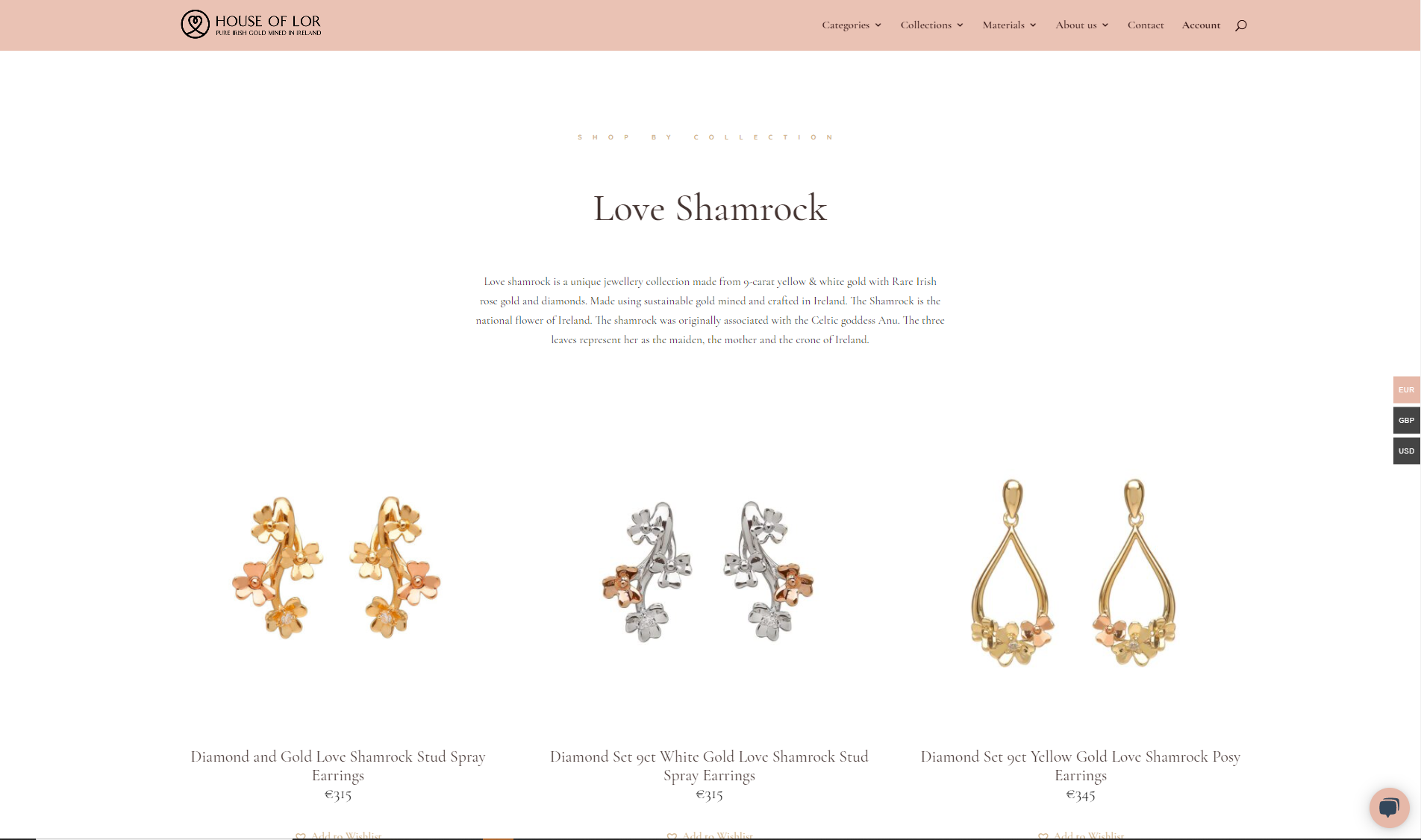 Improving performance and security
We started by making an inventory list of all the functions, including third-party software, present on the former website and how they were implemented or integrated. Then we sorted this list by priority, with four labels: "must-have", "should have", "could have", "must go". Until this point, this was based only on speculation and some basics analytics.
We also determined that one of the primary performance issues the website was presenting was related to the server used for hosting. So, we proceeded to make a fully functional copy of the website on our private staging platform to start working on improvements without the risk of breaking the working website.
Our staging environment is a section on our servers that let us test websites and apps using the exact configuration they will use when in production. This way, we could determine how everything was going to work before migrating the final live site.
WordPress websites also get slower when too many plugins are in use, so we applied our list to depurate the website's software. Many plugins were deprecated and not compatible with recent WordPress core versions, so we uninstalled and deleted them. It helped increase stability and performance.
Once every piece of software on the website was compliant with current versions of the core, we updated the latest WordPress and WooCommerce for increased performance and security. We were happy to see a considerable increase in performance thanks to PHP7.x and LiteSpeed web server and cache, with approximately 400% improvement in some cases and average web loads under 300ms.
Setting up analytics
Our approach focused on constant improvement works only with the help of advanced analytics tools. At this stage, we could only pull primary data from Google Analytics like traffic and referrers.
We implemented Enhanced eCommerce Tracking to track order values, customer behaviour, acquisition and more. We also implemented HotJar heat maps and recordings to visually track user interaction and improve product placement and the general interface. Finally, HubSpot analytics track web views, deals, cart abandonment, advance reporting, and ROI. I will dedicate a whole section to the HubSpot integration below because it was essential to improving the user experience overall, apart from its analytics capabilities.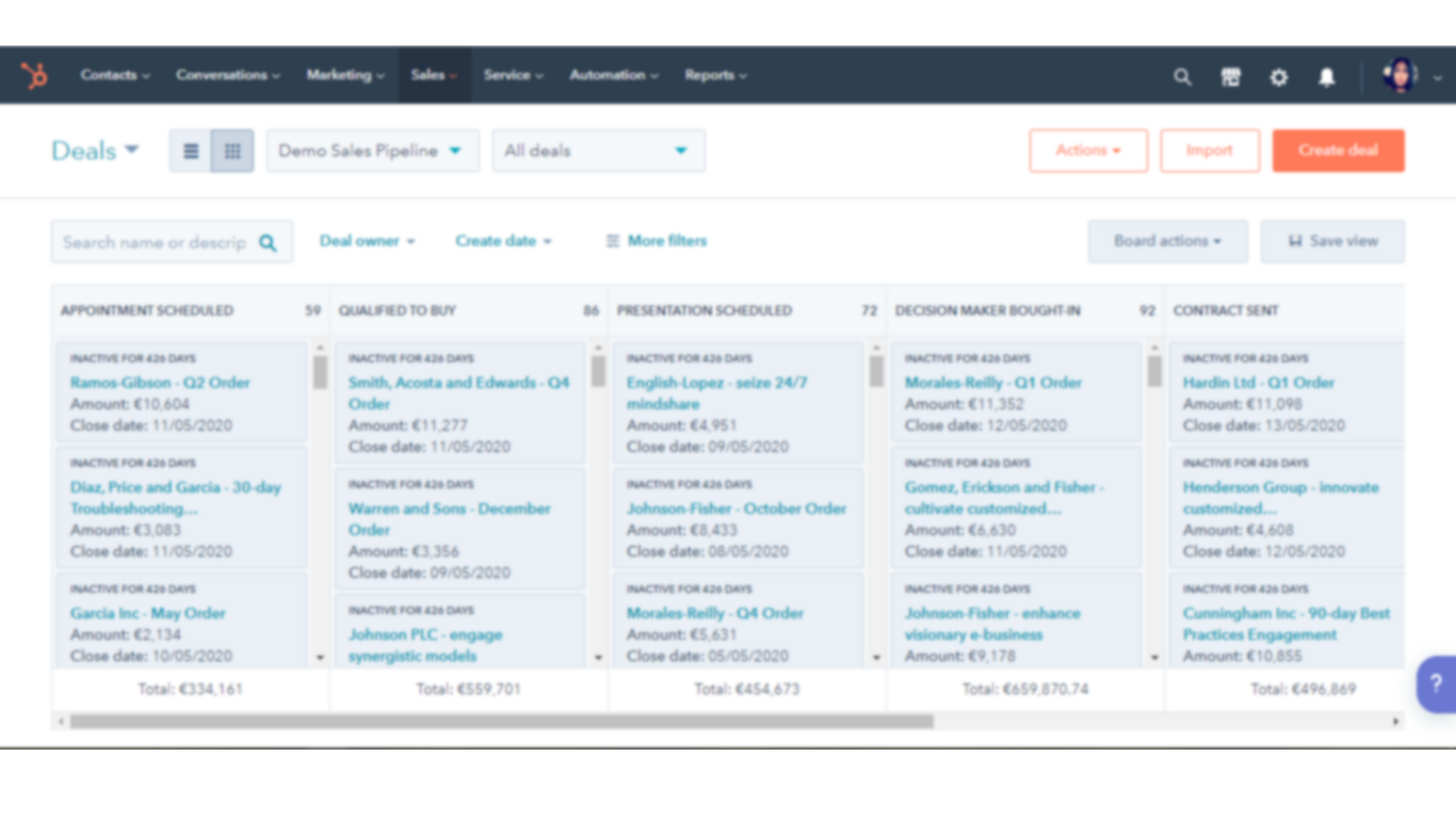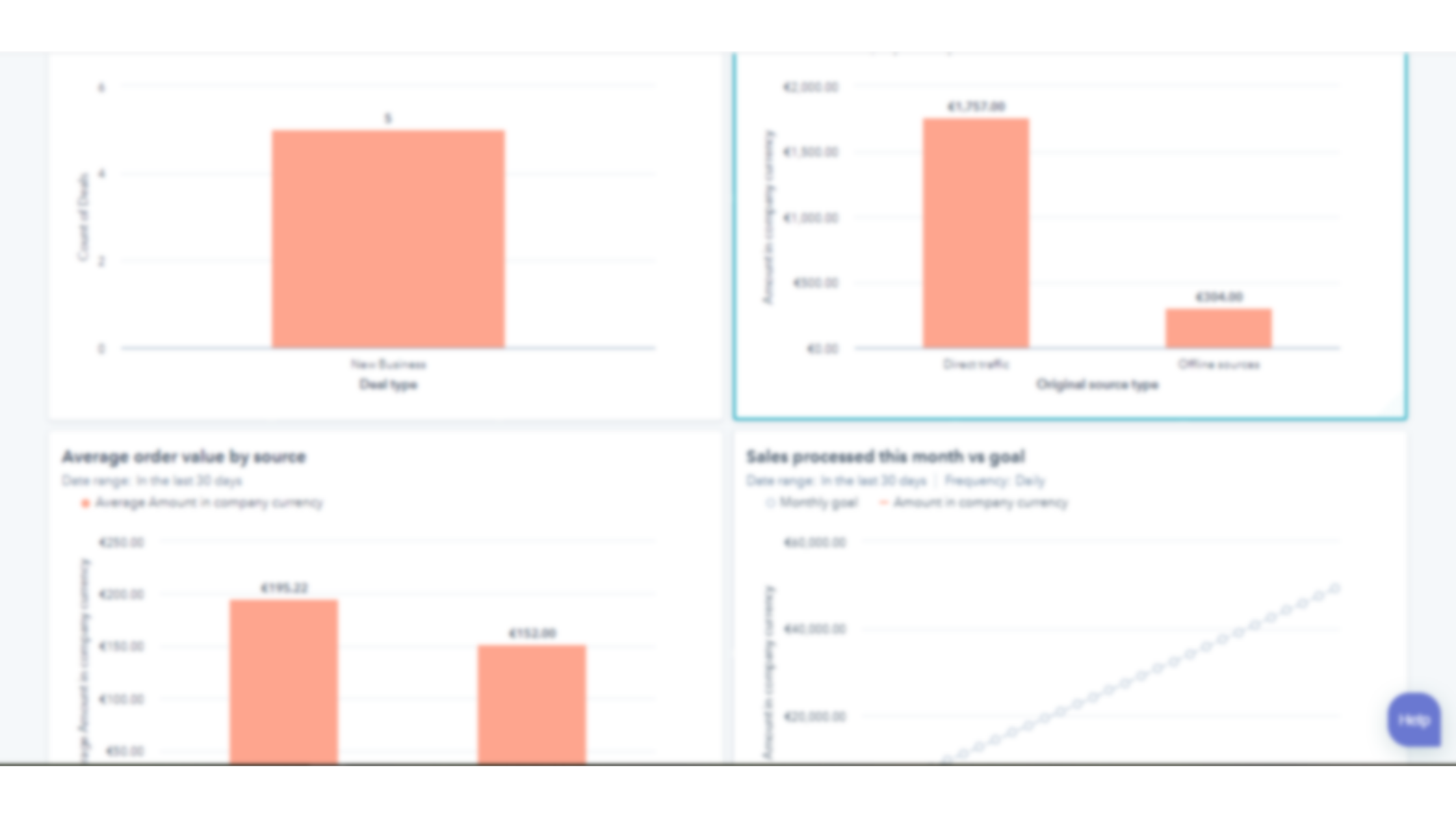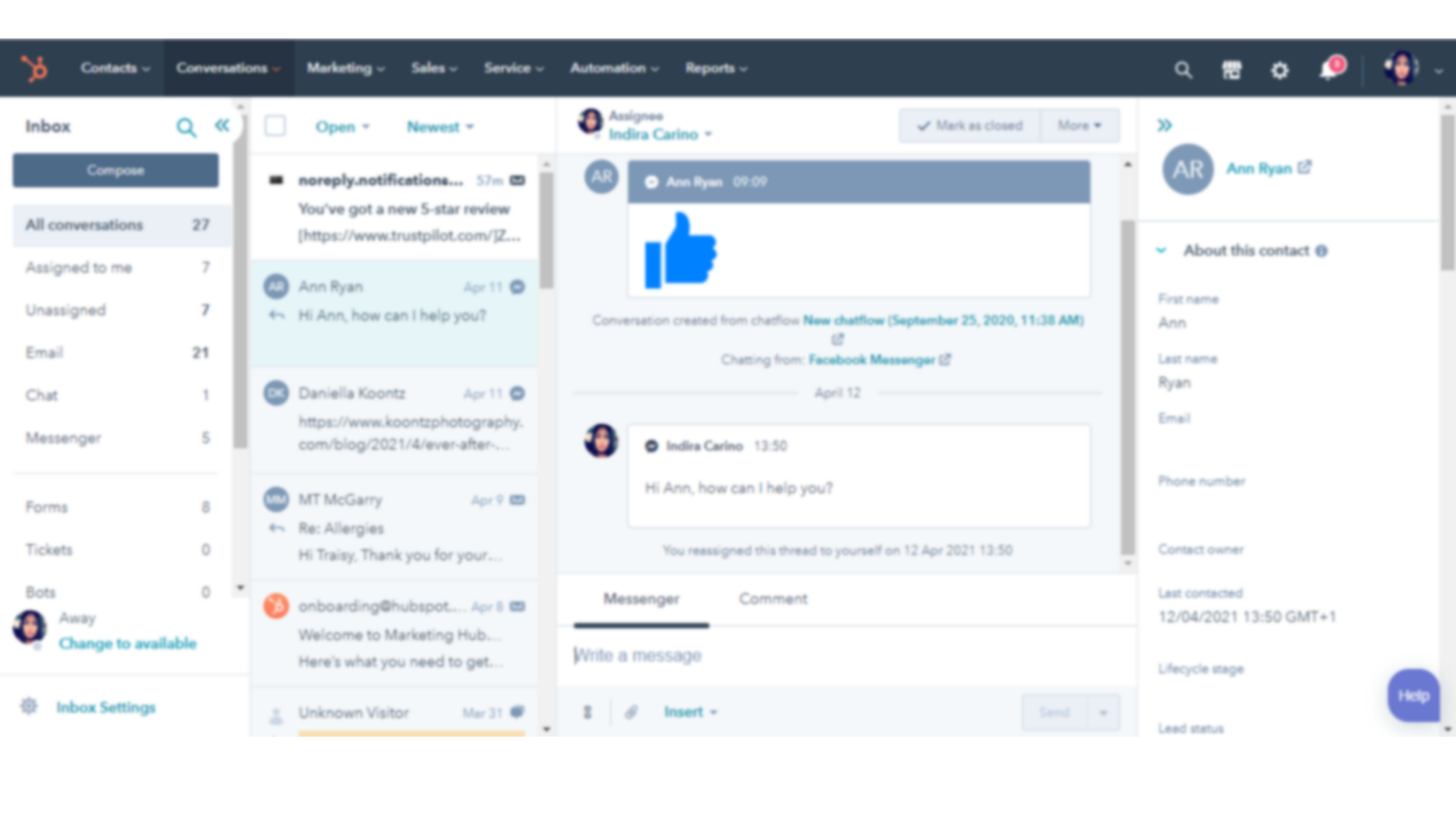 HubSpot Implementation and WooCommerce Integration
One of the main components of improving user experience was the integration of HubSpot tools. Due to the moment's uncertainty and the website priorities, the customer wasn't ready for a full implementation that would help all customer-facing teams. We started with the HubSpot CRM Freemium tools. Including live chat and connecting Facebook Messenger to centralise and assist customers in real-time during the purchase process and a chatbot for close times that point customers in the right direction to get help or find content.
HubSpot CRM tools like email marketing, team email inbox, lists, forms, landing pages, GDPR banner, and ad management were the perfect marketing hub tools. It helped us organise contacts, grow the House of Lor mailing list and provide a better online service before and after the purchase.
Using the sales hub meeting tool, we created a calendar for ideal customers to book an appointment with a jewellery expert and using the inbox. The House of Lor team could reply to every single query successfully and communicate internally when they need help from a colleague or Cat Media. Everyone on the team can now answer questions, communicate smoothly and be updated. We provided video training to everyone involved in this process, and they could not be happier.
Improving catalogue management and ads delivery
The former website managed stock manually, meaning every time a customer purchased an item, it had to be reported to the ERP and vice-versa. A huge pain point for store managers because it was time-consuming and vulnerable to human errors. We developed an integration to update stock levels directly from the ERP, ensuring stock levels on the website always reflect actual stock that way. We could reduce backorders and better serve House of Lor customers.
Our team also integrated WooCommerce with Facebook Catalogue. This way, we can update the Facebook catalogue used on Instagram and Facebook stores with only one user input on the website. Users can now change images, prices, and information on the website, reflecting on the social catalogues.
With this integration, we also configured Dynamic Ads on Facebook. The platforms show products to their users based on their preferences and buying intentions. This integration also allows providing highly personalised remarketing show Dynamic ads based on user interaction on the website.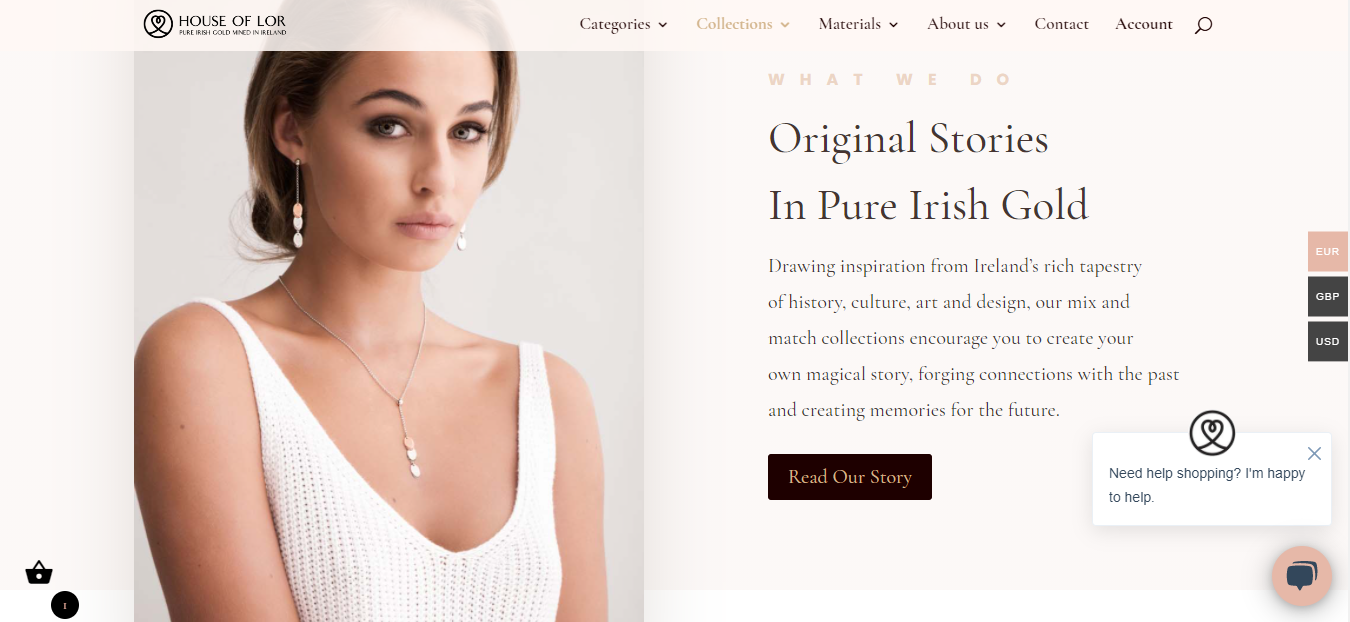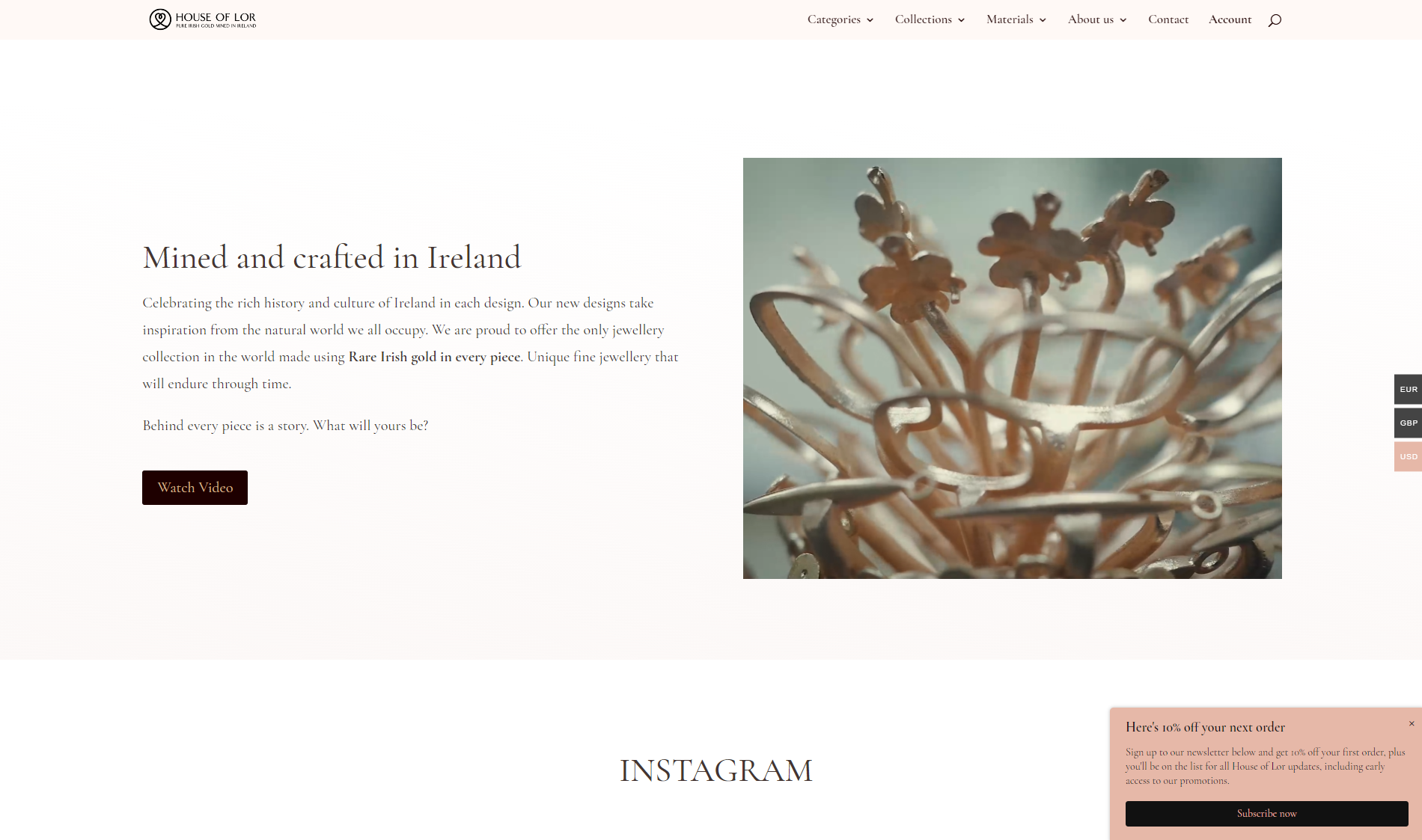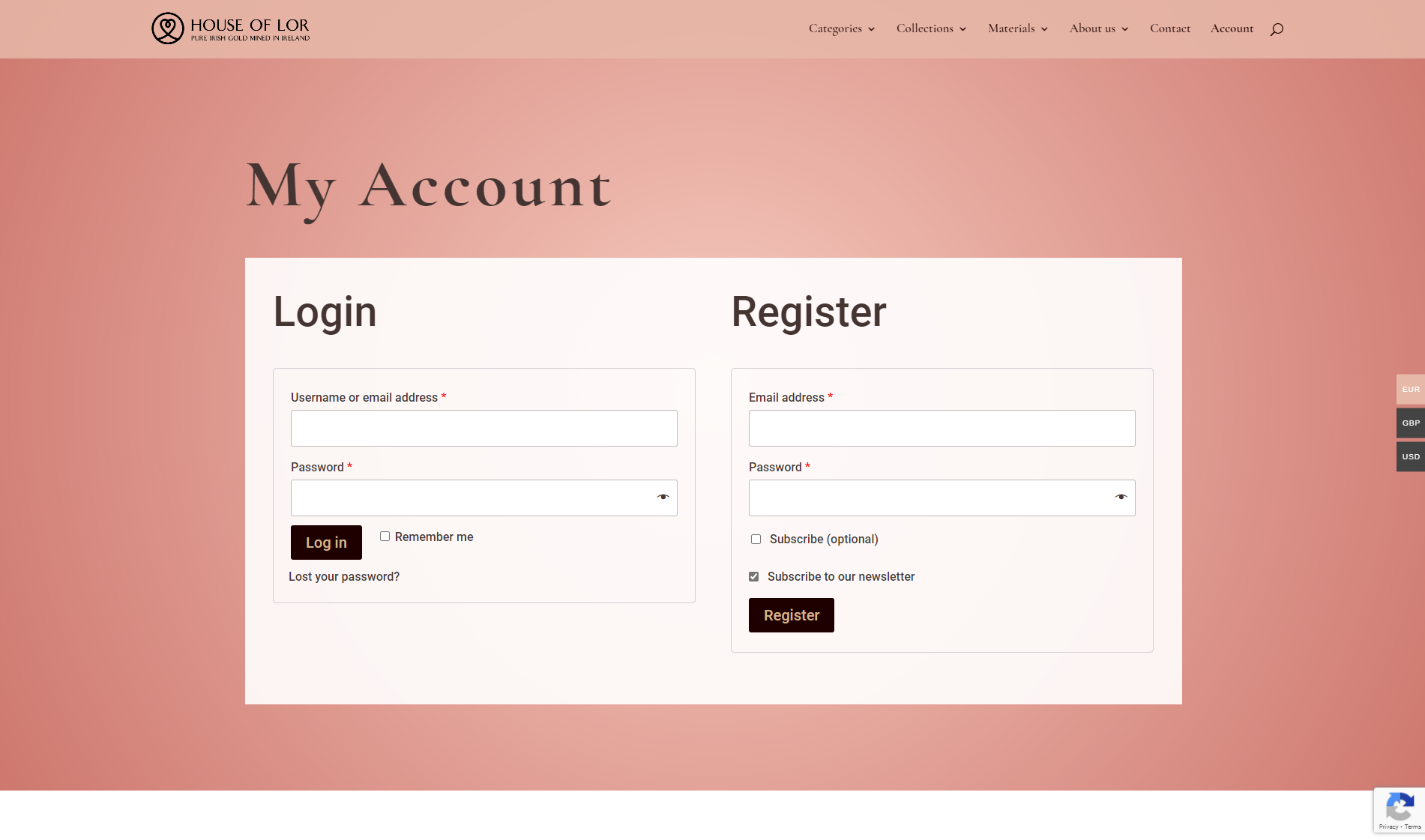 Increasing traffic, conversion rate and B2C sales (Results)
One of our key metrics is always organic traffic because organic is always better. Every improvement we mentioned before, along with a strong SEO strategy, a solid content and social media strategy, the inbound way, to improve search ranking and organic traffic dramatically. We added a fine-tuned paid media campaign and website improvements by the hour based on real-time analytics, and these are the results:
+321.06% (avg.) Users / +119.46% Organic Search
-14% (avg.) Bounce rate
+226% (avg.) Increase of B2C Sales
74.79% of total revenue coming from organic traffic.
(Data from December 2020 to March 2021)
We are now moving towards the end of Q2. We have implemented the HubSpot Growth Suite to continue automating processes helping the House of Lor team be more proactive and maximise marketing and sales efforts. Fully integrating HubSpot CRM to WooCommerce, feeding the CRM will purchases data and creating an eCommerce pipeline to report and forecast on sales. There's still hard work to continue providing value to ideal buyers and delighting customers to increase customer retention.
Cat Media were set quite the challenge. We needed to pivot and pivot fast as a result of Covid 19. Nothing was too much trouble, Indira and the team were on hand and hands-on. They have been instrumental in redeveloping the website for better customer UX and maximum SEO. Our social media engagement is now relevant and managed. We are beginning to see results with ROI and online customer captivation. They are committed to our growth strategy and success.
Vicki Pillow
Marketing Director of House of Lor
Ready to grow your company?
Optimise your sales, marketing and service processes with technology built to attract, engage and delight more customers.